Precast Concrete Lifting, Anchoring and Reinforcing
A selection of Products


Quality Standards
The Swift foot anchors are made from high-quality steel, that are more impact resistant and ductile. We have developed special techniques to bring steels to you that meet or exceed both our own high standards and the Code of Practice of New Zealand.
The Code of Practice states :
Charpy value :
Lifting inserts should be manufactured from materials, which meet a minimum of 27J impact energy at -15 degrees C, this being the average of three tests in accordance with ASTM: E 23:1996.
Factor of Safety :
They are to be > 3.0 times on anchors and >5.0 times on clutches.
Reference from :
Approved Code of Practice for The Safe Handling, Transportation and Erection of Precast Concrete. (Worksafe New Zealand).
The Multiform Standard
What should be noted about the Code is that this is the minimum requirements, and our standard is as follows.
Impact Strength :
>120J average over 3 tests at -20 degrees C, using the Charpy V notch test method as above.
Factor of Safety:
Ranging from 3.5 to 5 times on anchors and greater than 5.0 on clutches.
Ductility :
Stretching by 10mm - 30mm before breaking for 1.3T - 10T.
Durability :
Hot dipped galvanising thickness up to double what the NZ standard recommends without affecting the clutch fit.
Swift Foot Anchor Head Markings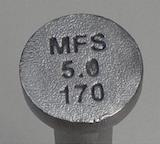 MFS = Multiform Systems

Clutch Group = 5.0T

Anchor length = 170mm

We have ensured interchangeability considerations have been resolved with currently used clutches and Swift Lift anchors in the market. You will see our clutches fit perfectly with all current Swift anchors or our Swift foot anchors with their clutches. We stand by our products for use in all precast elements no matter how complex the lift.


Edge Lifting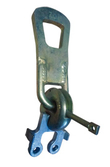 Edge lifting anchors are based on the standard anchors currently available in the New Zealand industry. You'll find strength, shape and design are equivalent so that you can be assured everyone is comfortable to use them. Where possible we have improved the anchors and you will note the 7 ton anchor now uses the Dunlop Reocable rather than an HD12 reinforcing bar to give a true 7 ton lifting capacity at a factor of safety of greater than 3.
Anchoring and Reinforcing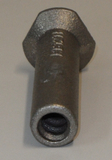 Threaded reinforcing bars are made for screwing into cast-in inserts and have been used for a number of years in Australasia, along with grout sleeves and connectors to join reinforcing together. We have recently added this range to our products to give choice and to enhance the advantages of the Dunlop Reocable and Connector.


Please contact us for a manual or engineering designs on your next job.