Multiform Rail Formwork - Precast & Tilt up
(Patented)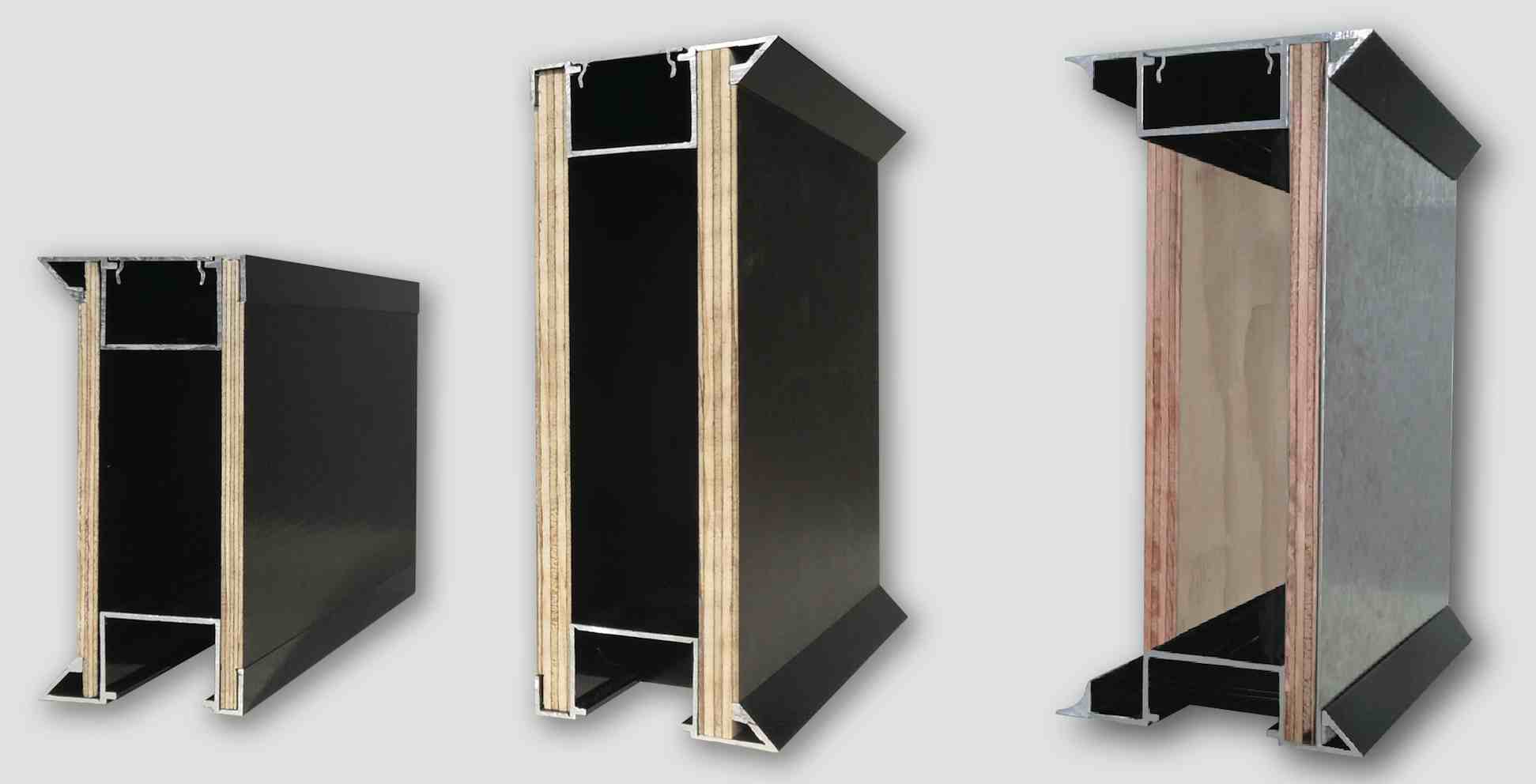 Used for concrete formwork on:


Precast wall panels
Beam and Column moulds
Stack casting
Tapered thicknesses
Polished concrete
Daily production
Thermo-mass / Insulation elements
.... look no further!
Multiform Rail Formwork is a modular Aluminium & Ply system:
Any thickness ..150, 155, 160, 165, 170, 175, 180mm ..made quickly
Beams up to 700mm thick
Light weight and strong - O.S.H friendly
Accurate and professional concrete finish
Bottom rails may remain fixed to beds for repetitive tilt up pours
Durable. Much longer life from coated HDO Plywood
Self-supporting up to 250mm high - no bracing required
Bed leakage problems reduced using the bottom rail's unique flexible design
Great range of chamfer shapes - 15mm standard
Rails come in 5.8m lengths and are easily extended
Great range of bed fixing methods: Magnets; central bolt; screws; offset clamps
As a user you will free yourself from excessive effort, heavy and hard materials, extra man power, fixing of chamfers and other obstacles found in existing systems. Multiform Rail Formwork will improve the speed and quality of your work, whilst increasing product variety - and your profits!

Site Photo's
View a video of the formwork being used
Video
What users have said about Multiform Rail Formwork:
"... the system is MAGIC! Superior to previous systems and the workers love it...we are getting more work and have increased production in both plants because of it!" (President National Precast Association Australia - NPCA)
Tilt up and precast formwork hire available.
Thickness sizes up to 700mm.
For making CIRCULAR, CURVED elements or placing a RADII to elements use the flexible formwork seen at
magnet products
To read more about our concrete formwork products and their applications
Click on the titles below to E X P A N D:
Precasting and Tilt-up
---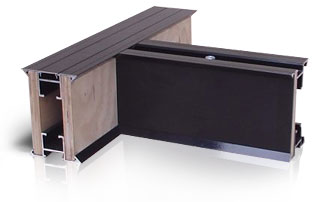 Modular Formwork.
Coated Aluminium.
Light weight and strong.
On concrete and steel beds.
Faster erecting and dismantling times saves money.
Construct the Multiform Rail Formwork System using a patented rail and plywood to make any concrete element in commercial and industrial construction.
---
Panels, Beams, and Stack cast of Elements
---
Brilliant!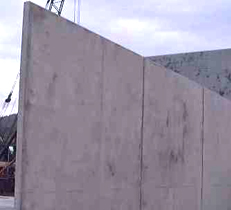 Do panels and beams with one system day after day.
Panels up to 350mm thick.
For Thermo-mass Panels.
For Perimeters, Commons, Doors and Windows.
Join lengths of Multiform Rail by sliding the plywood past the joint .
Formwork is constructed by inserting continuous plywood on the pouring face side and spaced plywood pieces on the non-poured face. Place the Multiform top rails over the plywood. Insert clamping studs and tighten assembly to finger tight pressure plus one turn to make rigid. Fix the Multiform bottom rails to the bed. Pour the concrete. (Formwork is self supporting, no bracing required, for most common panel sizes).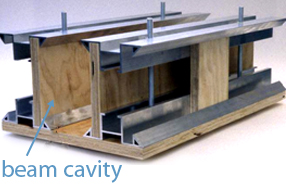 This picture shows how a beam cavity is constructed. The protruding studs are used to clamp pieces of lumber between the up-standing formwork walls. The lumber ties prevent the top rails from spreading apart under the load and keeps it square and rigid.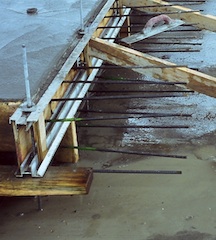 Using a jump form method, jump the bottom formwork shutter to the next higher level around the perimeter and brace back to the bed. A timber packer under the shutter ensures the correct jumping height is obtained.


Standard 8, 12 & 17mm coated HDO or construction plywoods.

Solve bed leakage problems
The formwork always follows the bed contour even on the most irregular bed surface and keeps the top flat.

Great range of chamfer shapes on Multiform Rails
| | |
| --- | --- |
| Triangular | - 12mm, 15mm and 18mm |
| Square | - Flush with rebated ply |
| Polished | - 16mm high x 5mm wide |
No more wavy chamfer lines.
Chamfers do not detach giving great edges each time. Your special chamfer type can be made on request.
Profit from the benefits of the Multiform Rail System
---
What Customers Say
---
Reduce the work of the workers and increase the bottom line
The Waikato water project involved pumping and treating fresh river water for the city of Auckland 60km away. The project called for the precasting and erecting of 380 panels, 300mm thick for a number of tanks and buildings on the site over a 10 month period. The company is an experienced construction company doing many of the largest jobs in the country and were familiar with the formwork options available. They initially saw the advantages of the system as the ability to stack cast on two 100m beds and to inexpensively re-use formwork where reinforcing protruded.
Their experience after using Multiform Rail Formwork was:
Contract duration reduced by 1.5 months (a 15% saving).
Less labour was required. 7 men were used instead of the expected 12-18 for timber formwork. The hourly labour rate of $20 equates to a saving of over $145,000 on labour costs over the 8 month period.
----------------------------------------------------
One of the foremost precast factories in Auckland completed changing over their factory to the Multiform Rail Formwork recently. They had been using timber to do formwork, but also had a complete set of steel forms which were viewed as cumbersome and high in maintenance. They chose Multiform because of its versatility and superior finish.
After using the system continuously for 6 months they supplied the following information:
A 100% increase in productivity. The system had reduced labour input from 1.4 man-hours / m2 to 0.7 man-hours / m2.
Quality had increased, reducing the remedial costs by 30%.
It is viewed as Worksafe/OSH friendly because it is light weight and a crane is not needed to move forms around the factory.
Timber savings of 80%.
They concluded by saying the Multiform Rail Formwork System saves them over $350,000 on every 100m2 of daily production / year. Calculated on a $20/h labour rate over 250 production days per year.
----------------------------------------------------
The President of the National Precast Concrete Association Australia (NPCAA) changed both of his factories to the Multiform Rail Formwork System. He chose the system for the following reasons: The ability to change heights by any increment, for example 175mm to 180mm with ease. The existing steel forms were viewed as durable but had high maintenance costs on the steel faces from damage and drilling. They also had problems with steel having dangerous razor sharp edges which cut workers hands.
Their conclusion on the system after 15 months use is:
Increased flexibility when quoting in the market place.
The system is a cost effective way of doing concrete production and we are getting more work and have increased production in both plants.
The system is MAGIC! Superior to previous systems and the workers love using it.
----------------------------------------------------
Over 13,000m Sold
IMPRESSIVE RESULTS
---
Other Bed Fixing Methods
---
The following photographs show commonly used methods on sites to fix the completed formwork to the beds.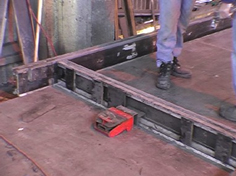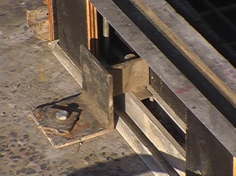 These photographs shows how a magnetic and purpose made bracket can be used to hold the formwork to a steel bed. These brackets have been made to apply pressure from the magnet directly onto the formwork.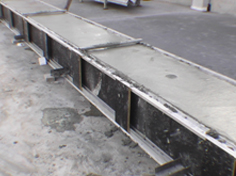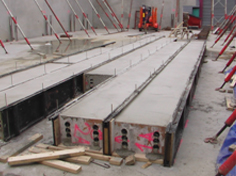 These photographs of 400mm deep columns show single and multiple pours and how the central bed fixing can be offset to produce excellent holding capacity. The steel channels clamps have a removable fixing drilled through and into the concrete to pull the channel down onto the bottom rail. The central rails on the multiple pours are clamped with removable fixings through the bottom rail.
Reduce the Work for Workers and Increase the Bottom Line
---
User Hints
---
Repetitive shapes are made super fast by leaving the bottom rail fixed to the bed when lifting the element. The formwork is reassembled immediately and requires no re-marking out to pour the repeated element.
Beams or panels can be lifted in any sequence when poured against each other.
Formwork is fixed to beds using bolts, screws, or magnetic clamps.
Use for the false floor in your double T floor slab moulds.
A satisfied user shows the lightness of the aluminium rail.
Request our video of precast and tilt-up users benefiting on their site!
We know you will be impressed with the benefits of the Multiform Rail Formwork System.
We look forward to supplying the system to you.

P.O.Box 128-129, Remuera,
Auckland. New Zealand.
Ph: +64 9 52 777 52
Mob. +64 274 77 77 46
sales@multiform.co.nz
www.multiform.co.nz

---